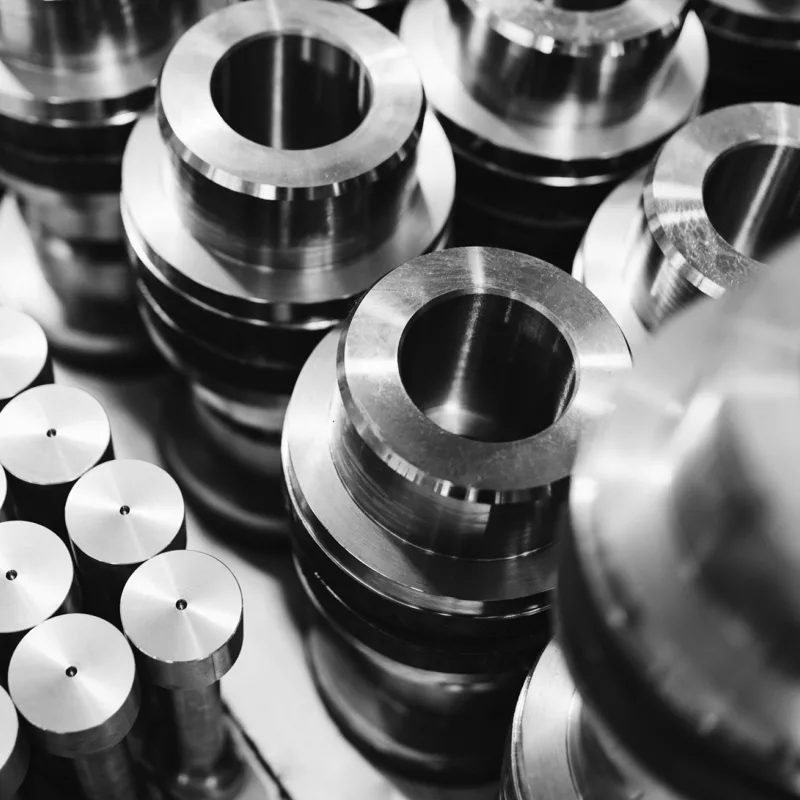 We have a modern, purpose-built facility located on a 2.5 acre site which offers yard, office and workshop space, including overhead cranes with a combined 40tonne capacity.
Brimmond can repair the simplest of faults through to major overhauls. Our experienced team will accurately access and report on the condition of the equipment and provide the scope of work, which can be tailored to suit a client's budgets and timescales.
We pride ourselves on the unrivalled standard to which we refurbish equipment, adapt to clients' needs, and provide equipment that will not only just work but will have an increased lifespan and performance.

Marine Cranes – from 1 to 500 Tonne Meter cranes
Example: Marine Crane complete refurbishment
Strip to component form
Replace pins, Bushes and sliding pads
Shotblast and NDT
Repaint to NORSOK M501 Sys 1
Replace all hydraulic hosing
Bolting replaced
Replace Slew Ring
Replacement / Reinstatement of Centralised greasing system
Slew Gearbox and Hydraulic Motors Overhauled
Cylinders rechromed, resealed, tested
All electrical wiring replaced, electrical enclosed replaced.
FAT, Load Test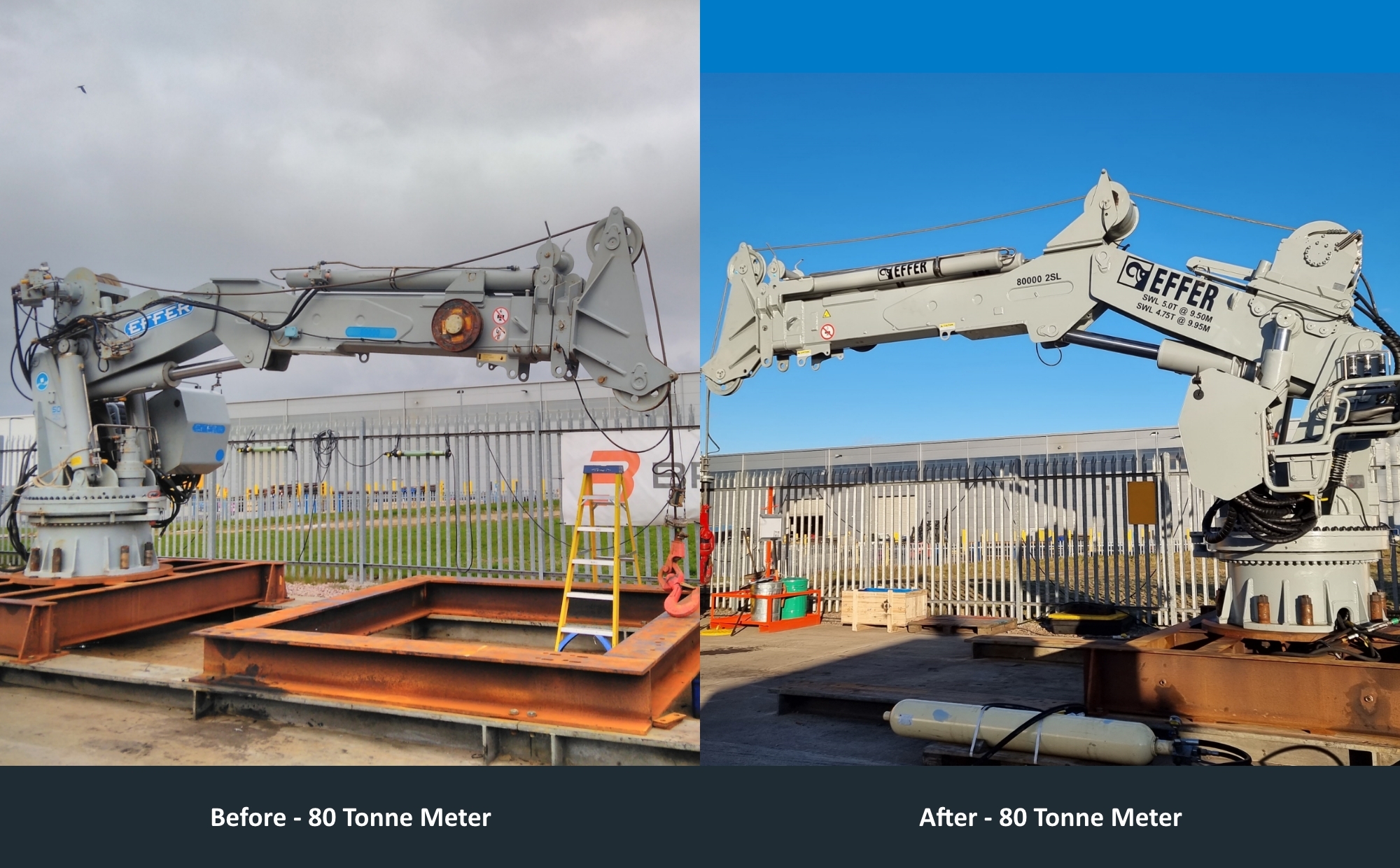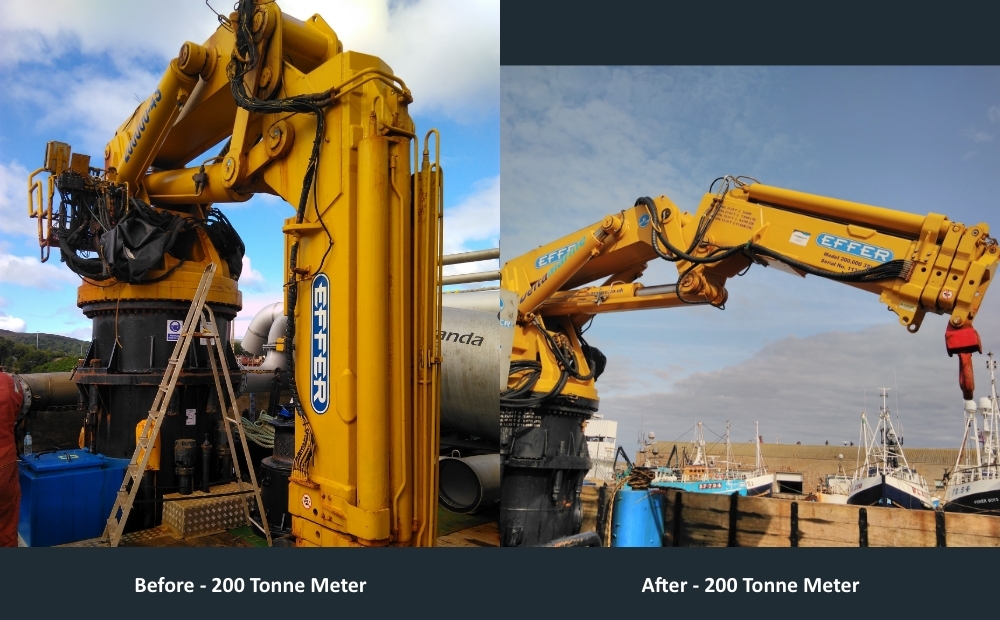 Constant Tension Units
Example: 16x 50L Accumulator CTU

Unit stripped to component form
Shotblast and NDT
Repaint to NORSOK M501 Sys 1
Accumulators replaced or refurbished
Relief valves recalibrated and recertified
Replace discontinued products as and when required
Recertify lifting frames
Strip and Rebuild Pumps
Renew documentation package
FAT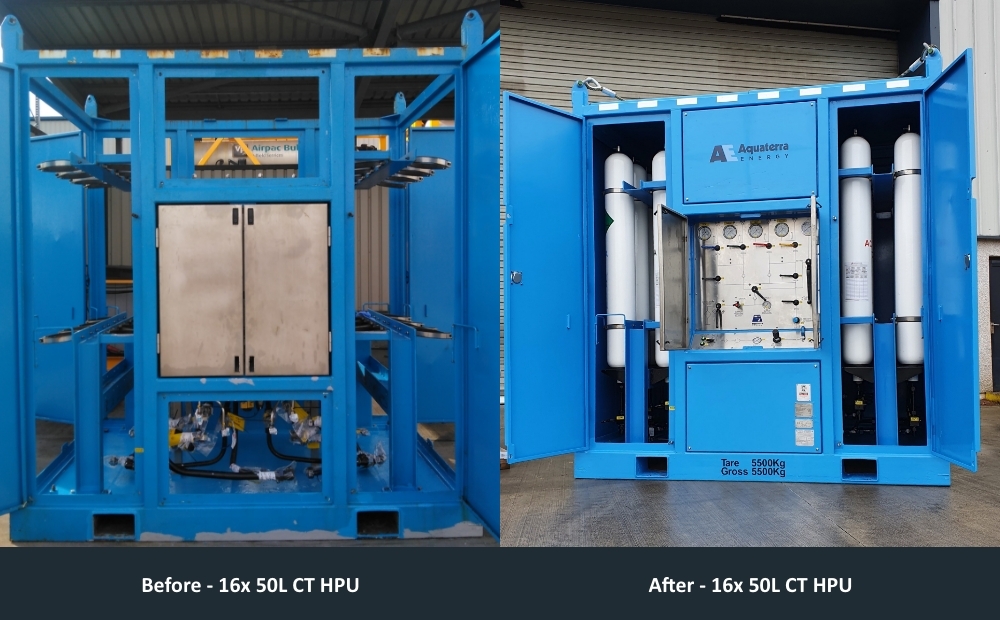 ROV A-Frames
Example: Workclass ROV A-Frame
Unit stripped to component form
Shotblast and NDT
Repaint to NORSOK M501 Sys 1
Replace hydraulic hose and piping
Cylinder stripped, rechromed, resealed and retested
Replace discontinued products as and when required
Recertify lifting
Renew documentation package
FAT, Function Test, Load Test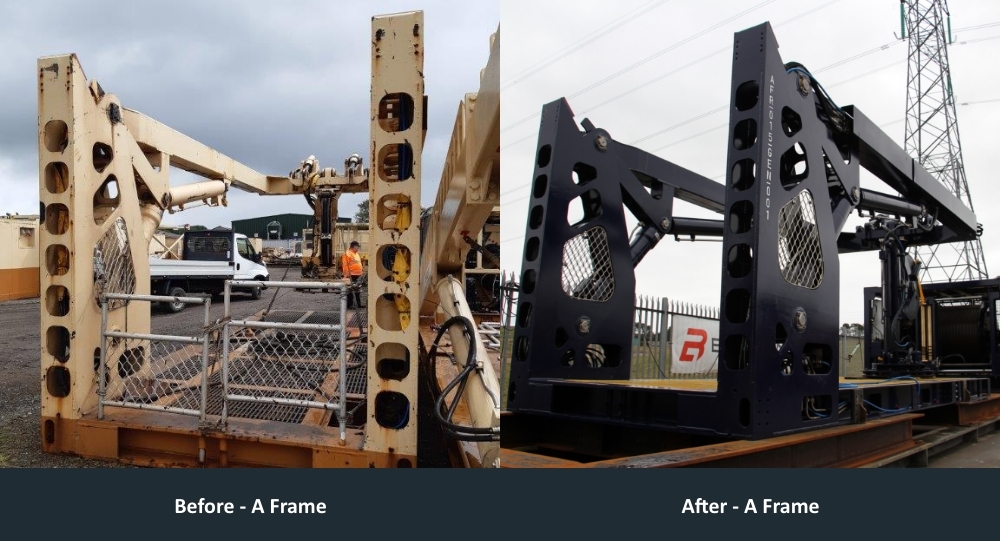 ROV Winches
Example: Workclass ROV Winch
Unit stripped to component form
Shotblast and NDT
Repaint to NORSOK M501 Sys 1
Replace hydraulic hose and piping
Replace discontinued products as and when required
Recertify lifting
Renew documentation package
FAT, Function Test, Load Test, Umbilical Spooling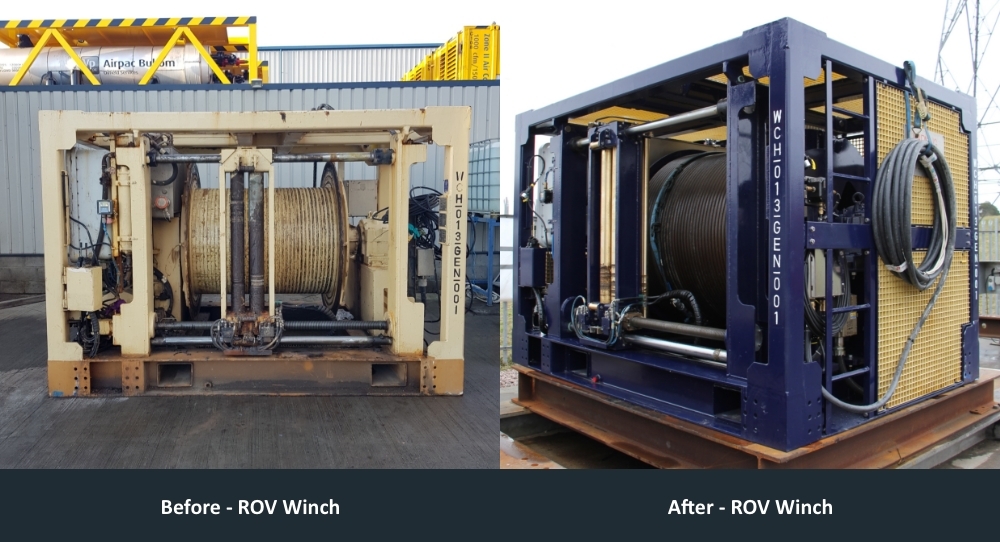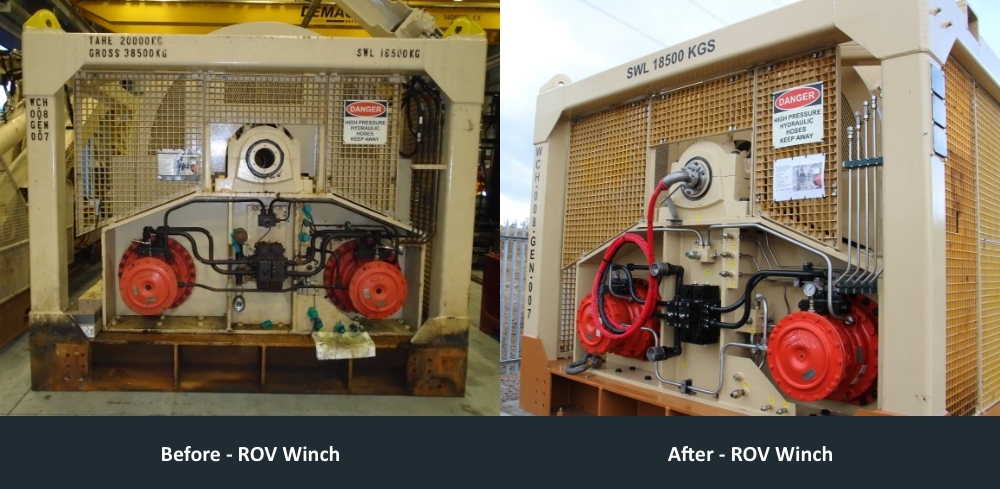 Control Panels
Example: Hydraulic Control Panel
Unit stripped to component form
Shotblast and NDT
Repaint to NORSOK M501 Sys 1
Replace hydraulic hose and piping
Replace discontinued products as and when required
Recertify lifting
Renew documentation package
FAT, Function Test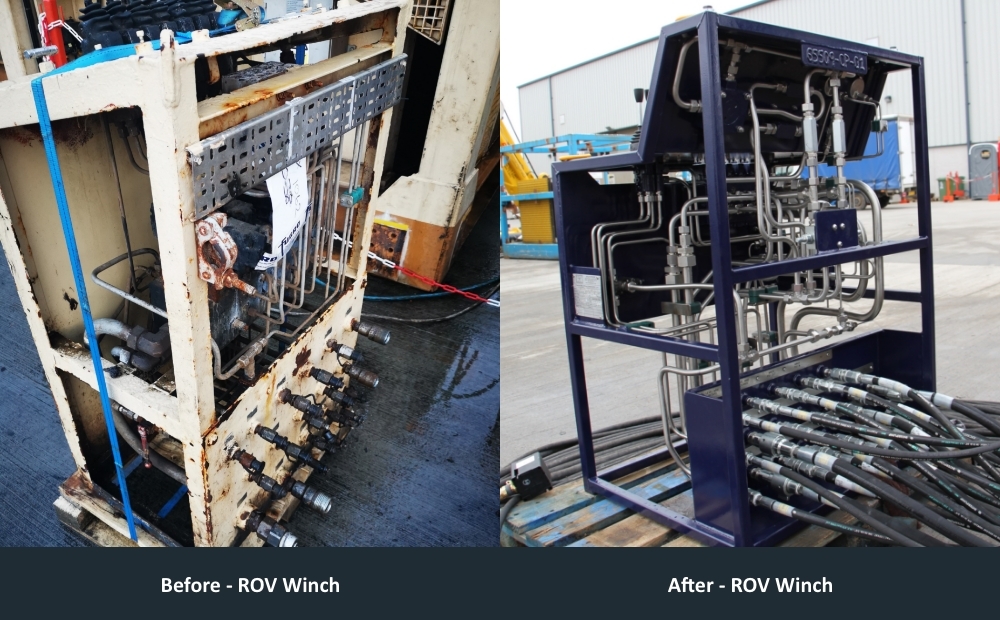 Hydraulic Power Units
Example: Diesel HPU
Unit stripped to component form
Shotblast and NDT
Repaint to NORSOK M501 Sys 1
Replace hydraulic hose and piping
Upgrade shutdown system from oil to pneumatic shut down
Replace engine oil filter, fuel filters, air filters, engine oil, engine coolant,
Rebuild hydraulic pumps
Refurbish engine radiator
Recertify engine shutdown probes
Remove, Strip, Clean, Paint, Rebuilt Engine spark arrestor and flame trap.
Full engine strip, replace injectors and injection pump.
Eddy current test tank welds and main frame structure for thickness tests
Replace discontinued products as and when required
Recertify lifting
Renew documentation package
FAT, Function Test