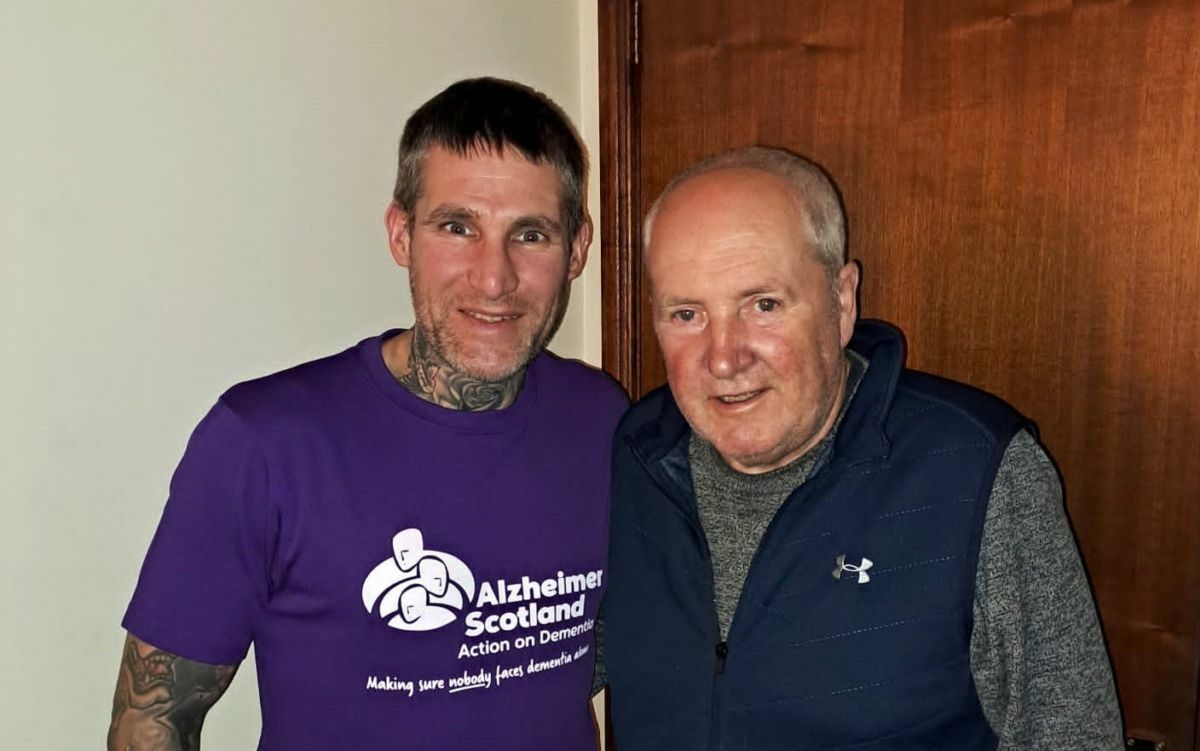 Eat, sleep, run, repeat... Greg raises £4,000 for Alzheimer Scotland
Inspired by one of the world's best ultra-endurance athletes, David Goggins, our Greg set out on his most gruelling challenge yet… running 4 miles, every 4 hours, for 48 hours, in the freezing cold depths of an Aberdeenshire winter in aid of Alzheimer Scotland.
BOB'S STORY
Earlier this year Greg's father-in-law, Bob, was diagnosed with vascular dementia, the second most common type of dementia in Scotland.
"He's been a right trooper. Most of the time he's ok and completely himself but there are increasingly times when he zones in and out, and he often struggles to remember the names for everyday objects such as a cup or a chair. It's frustrating for him, I think even more so because he saw his brother live with the destruction of dementia too."
"When you hear news like this about someone close to you, you just feel so helpless. You can't offer anything physical like a donation of blood, bone marrow or a kidney. It highlighted to me the reality of this heart-breaking illness, and I really wanted to try and do a little something to raise money and awareness to help and give back."
THE CHALLENGE
Starting on 29th December and finishing on 31st December, Greg took to the dark and icy streets of Old Meldrum every four hours, to run four miles, for two whole days.
In the short time between runs, he rested, washed, drank a coffee, and ate a small snack (protein bagel with peanut butter or Biscoff went down well!), did 30 mins of stretching, saw his family briefly, then back out to run another four miles.
Eat, sleep, run, repeat.
It was this strict routine, along with the non-negotiable stretching and morning Pilates, that he attributes his success to.
GREG'S THOUGHTS
Aside from the physical demands of a challenge like this, the mental strength and resilience required is something that shouldn't be overlooked. Mostly running alone there was plenty of quiet time to think - quite the contrast from a loud, busy work Brimmond workshop! Greg says that he focused on "embracing being uncomfortable" and that "the pain and discomfort was temporary, unlike so many people living with dementia".
When the pain crept in he visualised Bob, his wife and his kids at the finish line which always gave him the boost he needed to continue.
Along the way he was joined by some familiar faces including colleagues Stevie and Gogs, 'best sister-in-law ever' Nikki and finally, running inspiration and local business owner, Mark McCluskie. Not forgetting the encouraging tooting of horns as people drove past!
SUPPORT BEYOND EXPECTATIONS
With an initial fundraising target of £500, the support given by family, friends, work colleagues and the local community has surpassed all expectations with a grand total of £4,000 including gift aid going directly to Alzheimer Scotland!
"I felt bad asking for donations at a busy and expensive time of year - especially with the cost-of-living crisis. I have been completely blown away with everyone's generosity. After the challenge people I didn't even know were giving me £10 and £20 notes in the local pub. My wife even had someone chasing her across the road to donate money! Everyone has been so supportive."
Greg feels strongly that raising awareness as well as funds is of huge importance. With 153 donations made he is delighted that the message about Alzheimer Scotland has been spread so far.
Money raised from Greg's challenge will support those living with dementia across Scotland. Jonathan Mitchell, Head of Stakeholder Engagement at Alzheimer Scotland said:
"We are delighted to have the support from Greg and are in awe of his incredible fundraising challenge. There are over 90,000 people in Scotland currently living with a diagnosis of dementia and Alzheimer Scotland exists to make sure that nobody faces dementia alone. We are only able to do that thanks to dedicated fundraisers like Greg and we are truly grateful for his support."
WHAT'S NEXT
With a fire in his belly and the words of David Goggins still clear in his mind, Greg vows to go even bigger and better in his fundraising efforts in 2023. First up is a trail running marathon in February followed by an ultra-marathon in May. We're sure it won't be long until we're doing another update on his phenomenal endeavors.
From everyone at Brimmond, congratulations Greg!
---

If you, or anyone you know if worried about dementia, please call Alzheimer Scotland's 24 freephone Dementia Helpline - 0808 808 3000. For more information and support please contact Alzheimer Scotland, Scotland's national dementia charity at www.alzscot.org.